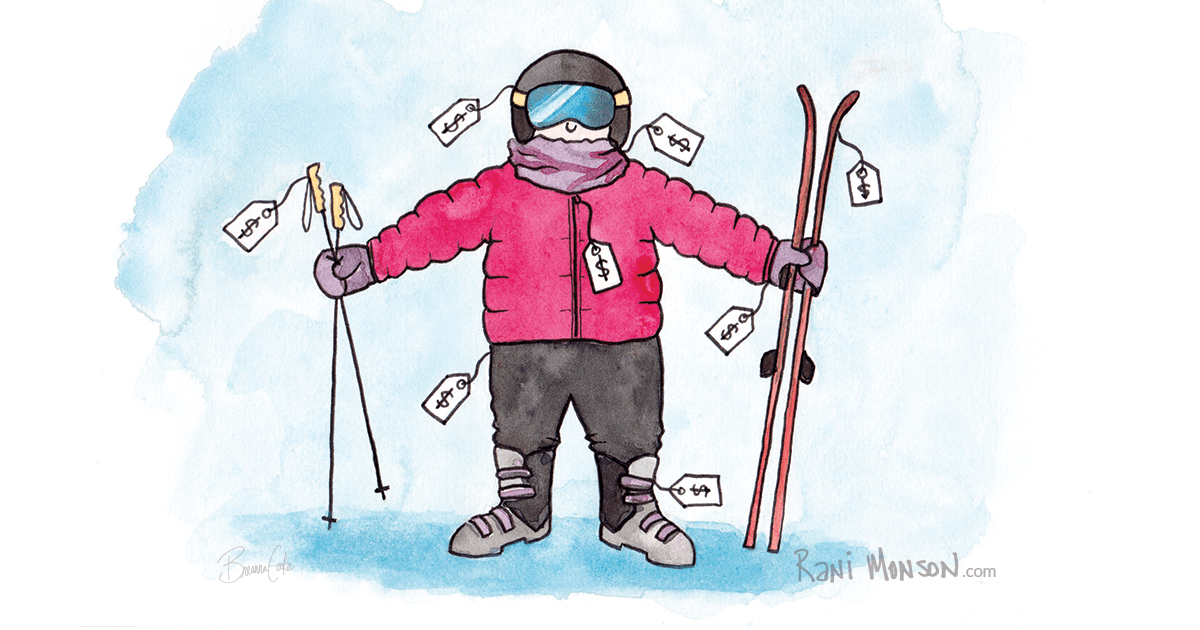 Like a foreign language, I fear learning to snow ski is best when one is young — much younger than I, who at 42, will be conquering the ski mountain for the first time this week. At least that's the current plan. Skiing for the first time at 42.
My family never did the cold-weather vacation when I was a kid. As Jews suffering from the blistery Midwest winter, we escaped to a beach over Christmas. I'd return sunburned — the rest of my family tan. So I'm approaching the ski trip — planned by The Boyfriend — with no experience.
You Have to be Rich and Skinny to Ski
I've learned skiing requires you to be rich. And thin. My tab starts at $500 to rent skis, boots and a helmet. A lift ticket is needed for each day you plan to ski, which apparently I'm supposed to know in advance. $375.
My time will start in ski school. The "never ever" class, as in never have I ever … for adults. For three days I figure I'll be safe. $375. Lunch not included.
I'm advised half-day private lessons should follow to fine tune my newly acquired skills and build my confidence. $695. Undecided, even though I do regularly try to listen to my therapist's advice.
And then there is the wardrobe. I already own a ski coat since I have an odd obsession with puffy jackets. Of course I now realize they actually make a "sleek" version where I wouldn't look like a burnt marshmallow. Total buyer's remorse, but I think I'm set as I start to cobble together a wardrobe from friends who actually ski. Long underwear, check. Neck muff. Done. Gloves — two pair. Pull-over half zip top. Packed. Not really. It's on the floor in the ski pile.
There are a few things no one offered, like socks, which I guess would be sort of gross to borrow. $70. Then I hear about other items I'll need for the trip that I didn't even know existed. Like a sock to go under my sock. That's a thing? $30.
But the real problem? Pants. One pair on loan came above my ribs to rest just under my boobs. The legs drag after me like Linus' blue blanket. Already clumsy, that's a hazard I cannot risk. Another friend loaned me a different pair. "My fat niece used them, so you'll totally fit into them." Nope. Too tight and too long. Apparently your knees need to be able to bend.
Don't Break a Leg
The dragging on the floor is the result of my 29-inch inseam. The standard inseam is 32 inches. A long is 34 inches. Even a double long is available. But a short? Only 2 brands even make them, but that doesn't mean they are actually available. Finding one brand is a win. Both would be a shopping gold medal.
I venture out in search of pants I don't want, yet need. I ask if there are any pants on sale. "No. But we've got cheap ones. These are $160. Oh — and look. These are only $150."
I don't spend $160 on pants. I've never even bought designer jeans. Of course, that's because I'm always waiting to lose weight and reward myself, which never happens, but still. I don't get it. My time will be spent on my butt scooching down the hill. I could accomplish that with a trash bag from my under my sink. Free.
Sizes run beyond tiny. I'm one size away from naked with no options. Pants are proving to be a double whammy to the wallet and the ego. It ends up, the pair I need is available only online and isn't any cheaper in "the cyber."
With my newsletter discount, expedited shipping fees, tax and 10 percent off coupon it rang in right at $199. I'm not sure which is more depressing — wearing the same pants every single day or having to spend that amount of money on a second pair of pants.
Humor column originally appeared in the Katy Trail Weekly.