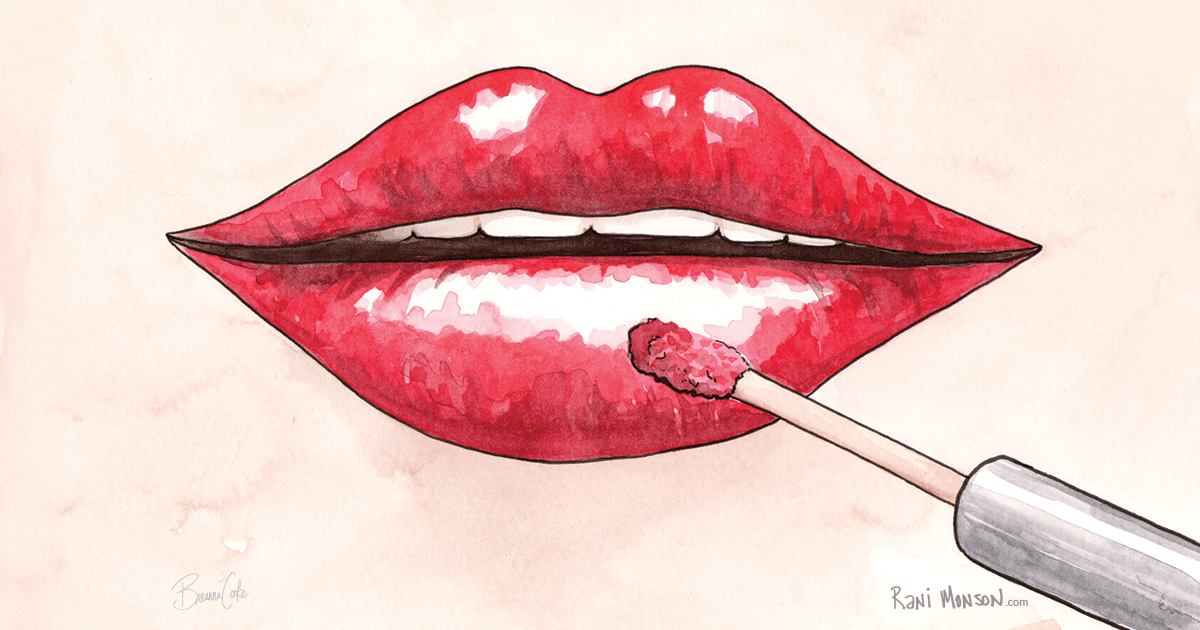 It's not uncommon for me to have my eyeliner lightly smeared down my face or my hair sticking up in funny directions, untamed despite my ponytail. Yeah. I've gotten accustomed to ignoring how I look.
While I can be a bit ignorant, it isn't the blissful sort. It's my own discomfort with my appearance, be it new breakouts or the resurgence of gray hair roots between salon visits. Parents who still comment on the appearance of my middle-age self doesn't help. Plus, weight gain means my clothes don't fit, which is another reason to avoid leaving the house.
All of which has been fine until a week ago when I started a job. Like a real J-O-B. The corporate kind, no longer working for myself. Around people and wanting to make a good impression. Exchanging the stress of self-employment for the anxiety of my personal appearance. The only upside is I can blame my woes on The Man.
I know people around the world get dressed and go to the office daily. I'm rusty. It's a lot to worry about them liking me and doing good work. Now, I also must think about how I look while I do it.
To prepare myself, I take baby steps.
Step one: The purge. Shoes I don't wear. Clothing that doesn't fit and, oddly, makeup. For someone who isn't really into makeup, I have a lot. From the drugstore variety to fancy brands my mother has given me, which means stuff that looks good on her, horrible on me. After two donation visits to Genesis Women's Shelter, I feel I've barely made a dent. But at least the process has begun and that feels good.
Step two: Wardrobe. I've lined up outfits that fit and separate them from the remaining clothing chaos to simplify choices.
Step three: Makeup. When I try, it's typically just an odd layering of whatever I pull out of the drawer. I knew I needed expert help, just a few items to use daily and get rid of the rest. It felt like a necessary splurge even though I'm a "I buy my makeup at Target" lady.
The MAC counter was too busy so I ended up at Sephora, with the bright lights and customers buzzing about with excitement. Again, I fear my girl gene is missing but am surprised to find myself thrilled with my visit. They don't work on commission, and they help you pick the right products across different lines.
New filler injected under my eyes a few weeks ago left me needing more oomph. Under-eye concealer in the right shade did the trick. Then we selected eye shadow and liner that's applied directly from the tube without brushes or mess. All three the Sephora brand and reasonably priced. Highlighting color is suggested since your face is two shades lighter than your body. Who knew? I almost choke at the $44 price of the Bobbi Brown bronzing powder but suck it up, thrilled with my four key products.
I'm ready. Done. Time to work.
But I keep hearing a nagging voice in the back of my head. Luckily it wasn't my mother but it was my therapist. She'd told me about the lipstick she wears that stays on all day. She bought some for her daughter, who, like me, wasn't interested.
"She loves it. It's still on at the end of the day, and she looks polished and pulled together."
I don't want that to make a difference. My appearance at the end of the day shouldn't matter. But I fear it does and my anxiety of being wrong kicks in.
Step four: Lips. I find a LipSense distributor, like Amway or Mary Kay. Check out the YouTube clips of men reacting to the color not budging. They're better than cat videos.
I purchased a $55 starter kit which I was OK with since I was already aware of the price and it's basically self-proof, meaning I can't mess it up. I wore it the entire weekend and kept checking out my lips in the mirrors I typically avoid.
On Monday, I went to my new job in a cute outfit wearing my new makeup and long-lasting lipstick. I felt good about myself! How I looked and mentally ready to work. Me and my Bobbi Brown bronzing powder are very happy, but it was the lipstick that sealed my mood.
Maybe I'm not missing a girl gene, after all? Perhaps it's just been hiding.
The lipstick is the gloss on my mood originally appeared in Katy Trail Weekly.