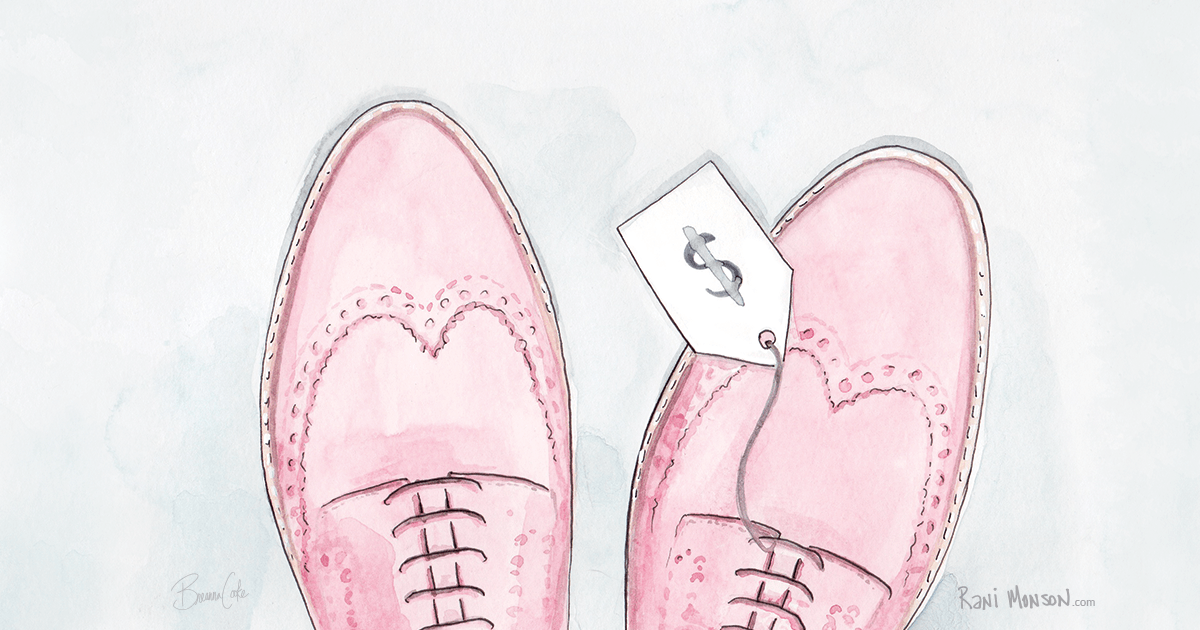 Recently, I read an article suggesting a woman should build her outfit by starting with her shoes, claiming it's a way to fully utilize fabulous footwear. I scoffed. Getting dressed is hard enough, figuring out what clothes fit that day and where I left my pants lying around the house. For me, shoes are the least of my concern. They always fit. Perfect retail therapy. Function and fashion.
My thoughts on shoes changed after I got a text from my new boss including a picture of his fitness tracker — more than five miles walked. "You'll see next week. It's a big campus," he said about the company headquarters in California, where I was headed. My first work trip, still new on the job, and not a month in. Meeting lots of new people, which can be stressful enough. Already I was concerned about what clothing I'd pack to make a good first impression. Now I had to add to my worry list finding shoes that would look nice enough for work and let me rack up a few miles a day without wrecking my feet. Or falling over.
Function or fashion? Hard call on shoes
Clearly, I was going to become "that girl" — one who had to plan her footwear first. And it had me wondering, are shoes function or fashion?
Guys have it easy. Throw on a pair of running shoes with khakis and a decent shirt and they're good to go in this business casual world we live in. I started down that approach, honing in on a pair of New Balance Fresh Foam Cruz shoes. The ones you've seen advertised everywhere, including US Weekly. I dragged Boyfriend to the store. It was a quick trip. "We're totally sold out. All around the country," I was told by a guy so shockingly attractive I was speechless. He didn't even look up at me as he spoke. Which was good, so he wouldn't see the lust on my face.
"You can't wear those for work," Boyfriend piped in, seeing the floor model in my hand. Handsome guy quickly forgotten. Boyfriend loved even more. He's my salvation — from myself.
My therapist echoed the sentiment. "No woman should wear tennis shoes to work, unless they work at a gym. Women can do better than that." This is from a woman who's hardly stuffy, with tattoos dancing down her back. The difference is she's subtle. You don't see the ink unless she wants you to. I'm much more obvious. Obnoxiously so. Subtly is a knack I lack.
I know because my work wardrobe continues to be an issue, embarrassing me and making me continually question my choices. While working with an executive coach hired by an employer, her first words of advice were crystal clear. "Lose the Hello Kitty socks. Start wearing navy. Changing how you dress is the easiest way to change people's impression of you."
I still have the socks. And the concerns. In my head I can justify such things. Dr. Martens boots with a pinstripe Ralph Lauren suit. In my past, yet still gets mentioned. The setting in your brain saying "don't wear these to work" is broken. Or just doesn't exist.
Now, I have in place self-imposed guardrails to stop me and keep me inline, one of which is Boyfriend. Who agrees to another shopping outing. I'm grateful for his supportive patience, helping me puzzle through a maze I simply don't understand, even though he wants to announce to the world my ridiculous mission. "Cute, comfortable shoes that I can walk in. But are good for California."
We quickly hit the comfortable shoes quagmire at Nordstrom. Function or fashion? It's challenging to find comfortable shoes that aren't horribly ugly. The only contenders are either hideous or more than $400 a pair. Neither will do.
We leave and head to Cole Haan. I'm convinced they employ two different shoe models for my size foot. One fits perfectly, the other is so painful it's almost comical. I never know which a shoe will be without trying it on and still often am surprised. I walk around the cramped store to see what catches my eye, checking out the prices on the sole. I approach Boyfriend with my arms full of what I believe are contenders. He ixnays most with a shocking level of detail and authority. "Not dressy enough. Too casual. That trim makes it look like a workout shoe."
After trying on a number of options, we've narrowed it down to two: pink suede lace-up wingtips and black-patent leather ones that are oddly intriguing, reminding me of something Pee-wee Herman would wear. I want them both, but they are full price and I'm a "I love everything on sale" kind of girl. Seriously. I buy next to nothing unless it's on sale.
After further contemplation, I learn no one is trying on the black shoes because they are scared off by the Velcro. That means they'll go on sale eventually, and we settle on the pink lace-ups, a.k.a. the GrandEvølution Wingtip Oxford. Cute, sassy and comfortable.
At home packing for the trip, I pull out my pink Strawberry Shortcake socks, admiring how perfectly they match my new shoes. "Adorable!" Sadly, I put them back in the drawer. To move on to my next issue: wrapping my head around the fact I just paid full price for a pink pair of shoes, and I thought I hate that color.
"Function or fashion? Hard call on shoes" originally appeared in the Katy Trail Weekly.